Carbonaceous Chondrite Grouplet
Some carbonaceous chondrites don't fit easily into the established groups, although they can be clearly identified as members of the class of carbonaceous chondrites Groups and grouplets: Amoung classifying scientists it's an unwritten law in the naming of new meteorite groups that it needs at least five members to constitute a new group. However, certain new groups and grouplets have been proposed in the past, although they don't have the necessary number of established members. This is done to show obvious relations between these ungrouped meteorites, and these grouplets often are the precursors of new groups to be formed in the future.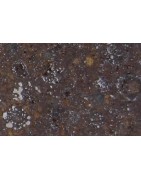 Sorry for the inconvenience.
Search again what you are looking for