Gold Rings With Piece of The Moon
Gold Rings With Piece of The Moon - Exclusive Treasures from Space! Meteorites from the Moon are the rarest meteorites, gram for gram they'll cost more than gold or diamonds. Experience the wonder of the universe with our collection of unique jewellery. Handcrafted jewelry made in France, the worldwide reputed country for the traditional luxury products as jewelry (Cartier, Boucheron, Mauboussin, etc.) -Gold: 750/1000 (18 karat yellow and white gold), concept and design by Luc Labenne. -Every piece is marked with a lozenge-shaped "poinçon de Maître" (master's hallmark), which guarantees its authenticity. -And also marked with an "eagle's head" (named "Poinçon d'Etat" in French) which guarantees the metal to be 18 Karat gold.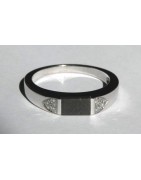 Sorry for the inconvenience.
Search again what you are looking for